So like most of you, I've heard about Kickstarter, the crowdsourcing website dedicated to helping people raise funds for creative arts-type projects. I've even donated to a short animated film being produced by my pal Jac entitled  One Per Person, that I'm happy to say quickly reached its goal and is well on its way to being completed. (Yay Jac!)
However, unlike Zach Braff, who recently has come under fire for using the site to raise private money to help fund a vanity project that apparently is already being supported by a production company, I have some other ideas for creative endeavors that no one is yet behind but really should be funded. I mean, if people are willing to give money to see Sonic the Hedgehog with boobs, I don't why people wouldn't want to throw their cash at me!
As a matter of fact, get out your checkbooks and Visa cards, here are:
Ten Great "Art" Projects That I Really Want Money to Produce
1. The Tar and Feathering of Mark Sanchez – I see this as more of performance piece, with heavy audience participation.
2. Steve and Kate Get Irate – A reality-tv project, where I have cameras just follow around my Damned Connecticut partners, and watch them navigate marriage, parenthood and life. I'm telling you, this is a winner—their fights on Twitter are some of the most entertaining things I see on any given day.
The random texts I get from Steve are hysterical. A few weeks ago he asked (out of the blue) if I my kids were serious about being Mets fans because he assumed that if something happened to my wife and me, he and Kate would be raising our kids, and "I'm not having any Mets fans sleeping in my shed." Nice.
3. The Colin Mochrie Project – For this, I just give Colin Mochrie money and let him improv and I just record it and it's comedy gold. Probably comedy platinum.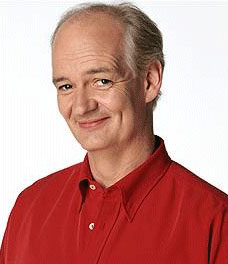 Yeah, definitely comedy platinum.
4. Celebrity Cannon Ball – A game/prank show, where irritating reality stars (redundant, I know) such as Honey Boo Boo, the Housewives of East Bumblefrack and every manner of swamp person, gypsy and dog groomer are shot out of a cannon, and whoever goes the farthest is the winner. Except unbeknownst to them, we just shoot them all into the same brick wall! Everyone's a winner here.
5. Morgan Freeman Reads Aloud Speaking Ill of the Dead: Jerks in Connecticut History – You know, because it'd be cool.
6. Shaming Butt Heads – A public service piece where I would follow idiots who like to flick their still-lit cigarette butts out of the car windows, and then broadcast it for all to see what self-absorbed douches they are.
Seriously though—this happened to me twice last week alone! And it's the same thing every time: A driver is flicking his ashes out the window as he drives, and when they get to the end of the cigarette, they just flip it out the window because the world is their f'n ashtray. I truly want to run them off the road, drag them out of the car and after smacking their head off the hood a couple of times, explain that areas the size of Connecticut burn out West each summer. Douches!
7. Quantum Leap: Dr. Sam Beckett *DOES* Finally Leap Home – Because the worst wrong in television history needs to be righted.
8. The Giant Squid & Octopi Channel – I figured there should be something educational in my offerings, and if there is anything more amazing—and absolutely more terrifying—than cephalopods, I'm not sure what it would be.
9. My Dinner With Salma – A documentary of sorts, I suppose you could call it. Starts with a casual meal between two amazing individuals (Salma and … me, of course) and … well, I guess we'll see where it goes from there. Or I'll see where it goes … (she is on The List, after all).
10. Sketches in the Life of William Stuart, The First and Most Celebrated Counterfeiter of Connecticut, As Given By Himself: The Movie – As I've repeatedly stated, this guy is my favorite jerk from my book, and my dream would be to turn his autobiography into a screenplay and then a movie. Trust me when I say that it'll be brilliant—not because of my writing but because this guy is one of the most entertaining characters I've ever run across anywhere.