It looks like the Connecticut Jerks: 2012 Tour is starting to kick into gear, so if you want to be part of the action, here are
Five Public Ways to Get Aboard The Connecticut Jerks Bandwagon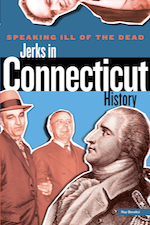 1. Tune in to "Leatherneck & Lace" on WDRC (1360 AM/102.9 FM) "The Talk of Connecticut" on Monday, September 10 at 9:15 a.m. – My first live radio interview for Speaking Ill of the Dead: Jerks in Connecticut History—what could possibly go wrong? It's not like anyone has ever said anything wrong on the radio that has gotten them in trouble … right? Gah.
Actually, my biggest fear is that as I get nervous, I talk faster and faster, so there's a good chance I'll sound like this guy.
Great radio, right?
Seriously though, it should be entertaining. I may be a little nervous, but that's good because I tend to crack more jokes to settle myself down. Let's see if the kids can keep up with me!
Wait, this is already only three days away! I'm already sweating profusely … *gulp*
2. Or tune in to "Talk of the Town With Larry Rifkin" on (WATR 1320 AM) at on September 24 at 12:30 p.m. – Assuming I don't get banned by the FCC, I should be a radio vet by this point, so I should be chattering at a rate only akin to playing a 78 rpm record backward. (Google it as you're getting off my lawn, punks!)
I've actually been on Larry's show once before for an article I had written in Connecticut Magazine about business in Connecticut—trust me when I tell you, I know a helluva a lot more about jerks than finance. Yay me!
3. Read the New Haven Register or Seasons Magazine – I've already done interviews with both of these publications about the book, but I don't know the exact date either will be published, although the Register story may be either this weekend or next.
The funny part about the Register interview is that I got an email last Friday from reporter (and my new bff) Jim Shelton asking me if I was "in the area" and could talk? "In the area?" I responded. "I'm literally in the office upstairs!" I guess he had seen the book and thought it would be a fun story, not even realizing that the author was an editor at Connecticut Magazine, the Register's sister publication housed in the same building. "Sorry, no corporate synergy," he said. "I thought it was worthy on its own."
Nice!
4. Come to my "book launch" party at Written Words in Shelton on September 30 at 2 p.m. – Yes, I know that is right in the middle of Jets game—sorry, I haven't reached the stature of The Bloggess, so I have to take the slot whenever they want me to show up. (I'll be DVRing the game, so please, don't text me or tell me what happens—and that means you, Senior Smoke and Steve!)
If things go to plan, I'll give a 20 minute or so talk, answer a few questions, and then sign some books. Easy peasy lemon squeezey, right? I will also be happy to sign anything else anyone brings—t-shirts, posters, subpoenas, copies of the Constitution, old Partridge Family albums, very small rocks, churches, live badgers …
I assume that on a Sunday afternoon in the fall, there will NOT be a lot of NFL fans in attendance, but that's okay—they can always just order the book via Amazon and read it during halftime.
5. Check out the "Lunch & Learn" program at the Guilford Public Library on October 16 at noon. Just booked this one yesterday. Apparently I'm going to talk for like EVER (or 40 minutes) and then answer questions.
I've been told they get good crowds for this—I'll make sure to put an end that!
No seriously, this will be another good event at a great place. They asked if I had any A/V requests—I don't suppose a tape of the greatest matches in the history of the Gorgeous Ladies of Wrestling playing in the background is what they had in mind, although it would add …. uh … another dimension to the proceedings. (For the record, my favorites were Chainsaw and Spike, The Heavy Metal Sisters)
Anyway, as always, thanks for checking out my stuff and I hope you get a chance to enjoy one of these!