See, it's guys like this week's JERK OF THE WEEK who give hard-working, honest, public-interest attorneys like my wife a bad name.
That's right, this week's JERK OF THE WEEK is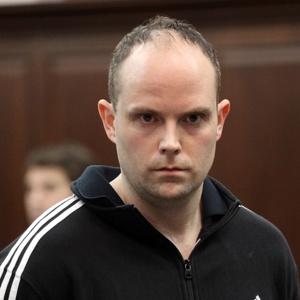 DOUGLAS ARNTSEN
It's always sad to see those who are supposed to guide the rest of us through legal system abuse it for their own gain. In Arntsen's case, that gain was $10 million. Not that he got to keep it—the long arm of the law caught up with him.
See, Arnsten, a corporate attorney, tried to make his fortune the old-fashioned way: By embezzling it.
From the Wall Street Journal:
Douglas Arntsen, a former attorney with Crowell & Moring LLP, pleaded guilty in Manhattan Tuesday to stealing more than $10 million from his clients, local prosecutors said.

The sum belonged to two former clients of Mr. Arntsen, 34 years old, while he was employed by the Washington, D.C.-based firm, according to the Manhattan district attorney's office.

Prosecutors accused Mr. Arntsen of using the funds to pay for visits to "expensive restaurants, sporting events and strip clubs."

Mr. Arntsen worked at Crowell & Moring from February 2007 to September 2011. In early 2009, Mr. Arntsen began embezzling several million dollars from an escrow fund owned by client Doina Capital LLC, an investment fund, prosecutors said.

The next year, he began stealing from a second client, Regal Real Estate LLC, to cover the shortfalls, prosecutors said. He stole more than $7 million from Regal, they said.

In September 2011, a Regal Real Estate employee confronted Mr. Arntsen about the missing money. Mr. Arntsen fled to Hong Kong, where he was arrested and extradited to the U.S., prosecutors said.
Now I know you may be saying that he was "only" stealing form rich corporations, but stealing is still stealing, and he violated the trust of his clients. The money didn't belong to him, and the fact that he tried to escape after getting caught red-handed is even more odious. (Yes, odious!)
My favorite part of the story—and what cinched this week's award—is this from a story on NBCnews.com:
Prosecutors accused him of fleeing to avoid arrest. His lawyer, Alan Lewis, has said Arntsen was taking a planned trip.
Of course he was—he planned on avoiding getting his comeuppance in prison by taking a trip on the other side of the globe, you know, because HE'S A JERK!
As always, if you want to spend money in a responsible—yet somewhat jerky manner—I know how you can. Thanks!