This week, we have JERKS of the week, and when you discover why they are being so (dis)honored, I think you'll agree with me that they are more than worthy of sharing the "distinction."
Meet husband and wife JERKS OF THE WEEK—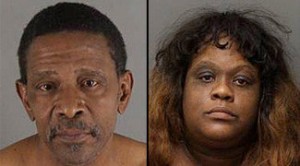 GREGORY AND LaQURON LACY
"Okay, that looks like a pair of mugshots," you might be saying to yourself. "That can't be good." And you would be right.
The Lacys were arrested for allegedly running "an exotic strip club" in their Perris, California home, complete with a stage, stripper pole and private "erotic zone." Although illegal and generally frowned upon by more prudish neighbors, that isn't exactly jerk of the week material.
From the Los Angeles Times:
Investigators found seven adopted children, all under 11 years old, living there and at least five ecstasy pills sitting on the kitchen counter, the documents said.

According to the documents, the children told officers that LaQuron Lacy, 43, would hit them with "fists, belts, hangers and metal objects, which caused them traumatic injuries and scarring," and that she "often refused to feed them and often locked them in their bedrooms."

The children told officers they witnessed late-night strip club parties that lasted until the early morning, the documents said.

Four of the seven children "described being hit … with belts and a metal cane" by 60-year-old Gregory Lacy, and a 6-year-old child said he threatened them with a Taser, according to the documents.

A 7-year-old girl also told officers Gregory Lacy had recently sexually assaulted her on a bathroom floor, according to the documents, an act apparently witnessed by some of the other children.
Sometimes, "JERK OF THE WEEK" isn't strong enough a term for someone. I'd very passionately argue that this would definitely be one of those times.
I've often stated I understand how some sorts of child abuse can happen—I've been occasionally driven to absolute frustration and anger with my kids, but then I have that little thing that goes off in my brain that says, "Okay, calm down. They're just kids. You love them, they love you . . . big deep breaths . . .  let it goooooo . . . ." But then there are some times and some stories—like this—that I can't even picture how someone could get to the point where they would treat another person, let alone innocent children, in such a fashion. I'd say it's unreal, but a glance at the full dockets of juvenile and family courts tell me that it's all too real.
As many of you know, I don't believe in God, which means heaven and hell aren't concepts I buy into, either. Thus, I hope that there's some sort of special retribution meted out on these two subhuman creatures in this life, maybe something in front of prison cameras so we can all watch, and then mentally slowly tuck a buck in the waistband of the inmates who provide justice. Not that it'll help those poor kids . . .
This is one of those times that after I read the story, I just sort of went over, hugged my kids and told myself that even though I sometimes make mistakes as a parent, things are generally pretty damned good in my life.
Really, I'm not sure that I have anything else to say that isn't already obvious. Buy my book, thanks.