So, like many NFL fans, I'm getting pretty psyched up for the NFL Draft that starts Thursday night.
Why? I'm glad you asked, because here are
The Top 10 Reasons I Love the NFL Draft
1. J-E-T-S JETS! JETS! JETS! Fans!!!!!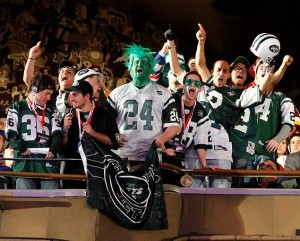 This is a dirty secret of the NFL Draft: That the electricity and buzz that's been created around the draft largely comes  courtesy of boisterous New York Jets fans who have been regularly packing Radio City Music Hall for years. Sure, fans from other teams are there, but none of them react with the enthusiasm—or derision—of Jets fans.
Although they will never admit it, half of the football fans who tune in do so just to see how Jets fans will react when the team makes its pick. Heck, there's even an infamous—and admittedly, amusing—video out there (which I will NOT link to) that includes all the worst Jets' picks and the fans dramatic overreactions, be it booing, crying or threatening to kill themselves.
This year, the Jets hold the #9 and #13 picks in the first round, and I can promise you that in the lead up to those, you won't even have to be looking at ESPN or the NFL Network—you'll hear the crowding frothing itself up into a frenzy with its distinctive J-E-T-S JETS! JETS! JETS! cheer as soon as the team is on the clock.
And trust me, you will want to be looking at the TV because there's no doubt that both networks are thrilled the Jets have two picks this year and will heavily feature Jets fans in all their green-and-white glory to give their broadcasts a little more juice. Which, I promise, they will.
2. Mel Kiper Jr.'s hair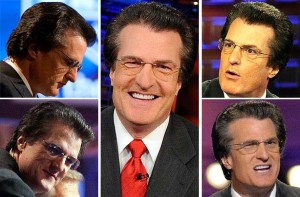 It's amazing and hasn't moved since 1984, when the beloved draft guru covered his first NFL draft on ESPN.
3. The NFL Draft is the oasis of the off-season. Falling almost at the midpoint on the calendar between the final gun of the Super Bowl and the opening kickoff of NFL training camp, the draft is perfectly positioned to give fans a magical dose of NFL football that will hopefully carry them through the dark days of the off-season.
4. Everyone wins on draft day. Just like the "contests" of today's youth, everyone is a winner on draft day, and everyone gets a trophy—actually, multiple trophies that hopefully will become NFL stars of the future.
Some draft "experts" will try and grade the draft in the days following the event, but this means nothing—back in 2008, the Kansas City Chiefs were heralded as "the biggest winners" by every pundit. That year on the field (you know, where the games are actually played) the team finished 2-14 and head coach Herm Edwards was fired. They went 4-12 the next season, too. Great googly moogly!
5. Unbridled optimism. Taking the positive vibe another step, the draft means that all the hardships of last season are over and shiny new pieces have been brought for a shiny new season. Every team in the NFL—even the Jets—is tied at 0-0!
Actually, it's even better than that: If your team was bad last season, the draft is a redemption of sorts, an opportunity for those who were last to now be first …. to pick! (See, that butt-fumble wasn't all for naught.)
6. Even the experts get it wrong. So if you're any sort of football fan, for the past few weeks you've probably been looking at various "mock drafts," worthless exercises that many sportswriters engage in to fill space while waiting for actual news. Every single one of them is based on nothing other than pure speculation, often resulting in less accuracy than even the worst weather forecasters.
In fact, last year only 1 "draft expert" got more than 10 players and teams correct, which is staggering considering there are 32 teams and 7 rounds. Doing the math: 32 x 7 = 224 possible correct guesses, and the best (not Mel Kiper Jr., who literally invented the vocation of "NFL draft expert") only got 13, which is 5.8%.
Really, if you used a blindfold and a dartboard (or even 100 monkeys and some typewriters), you could probably hit on the same percentage. You're just not getting paid to guess.
Oh, and within three years, better than half of the athletes who are picked in the next few days will be out of the NFL.
7. The great debate. For the past few weeks, all through the draft and over the next few weeks, there will be seemingly endless debate over who was projected to be picked, who was actually picked and who should've been picked. It will consume cable television channels, sports talk radio and the whole of the internet, and none of it will matter even one iota.
Seriously, not even one. It's all talk that has zero effect on any games.
8. Into the great wide open. Right now, unless you're the aforementioned Kansas City Chiefs who have the No. 1 pick this year, every NFL team—and all its fans—have absolutely no idea what players they may end up or what their teams will look like come Saturday night after "Mr. Irrelevant" (the last player picked of the draft) is selected.
The same goes for the hundreds of college players who hope to hear their names called in the next few days—their futures are about to be decided and they have almost no control over it. Scary and fun!
9. It's over the top.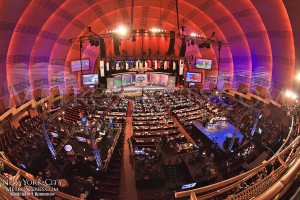 Two networks providing worldwide live coverage, a state-of-the-art staging in Radio City Music Hall, hundreds of live spectators and reporters, millions of TV viewers, a seeming infinite horde of internet acolytes, bloggers and self-proclaimed experts—all for what essentially is picking teams like you used to do in gym class.
Really, the crux of the draft is that when a team's turn comes, a duly-appointed representative gets up and hands a card to NFL commissioner Roger Goodell, who reads whatever name is on the card—I'm not joking when I say that the entire thing could be done in an AOL chat room.
Still, the masses will gather and watch, and it will generate headlines across the country. Amazing.
10. It's a guy day. With all due respect to the majority of the ladies out there, this seems to be a day primarily enjoyed by men, an opportunity for us to get together and celebrate the NFL with food, beer and a ridiculous amount of interest for such an over-hyped event. I will be at my pal Pisci's house, a master chef who will be essentially putting together a top-notch tail-gate type extravaganza (I'm bringing brownies—it's a tradition!) that we will devour, mostly with our hands while we grunt and nod at the TV.
MEN, baby!!!!
In addition to gratuitous amounts of belching and farting (although maybe not in that order), and inappropriate comments aplenty, there will be a healthy amount of male bonding, which I will thoroughly enjoy and hold in my heart …. until the actual games begin in September!
Merry Draftmas everyone!