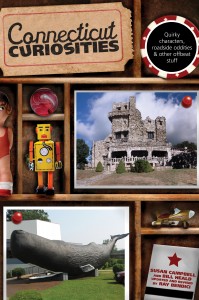 Connecticut Curiosities: 3rd Edition from Globe Pequot Press is a round-trip ticket to some of the most unusual people, place and things that Connecticut has to offer, from medieval castles and giant tiki heads to two-headed calves and 8-foot-tall groundhogs, plus all manner of roadside oddity. It a proper showcase to all that's wonderful and wacky here in the Nutmeg State (a nickname that isn't exactly a compliment, by the way—it's explained in the book).
For this version (the original book was written by Susan Campbell and Bill Heald), Ray edited many of the outdated articles and then added about 25-30 new curiosities. He also got to write a new introduction and chapter openers, plus contribute images throughout the book.
Basically, he was paid to share his knowledge of all that's weird, unexplained and unusual in Connecticut. Pretty cool, right?
Just a few of the many things new to this edition:
Ray added much more beyond that in effort to really ratchet up the "curiosity" factor of the previous edition.
You can get your copy of Connecticut Curiosities: 3rd Edition through Amazon and Barnes & Noble, or you can go old school and get it from a local bookstore — Borders, Barnes & Noble and even some of the independent bookstores should have it in stock.
Hope you enjoy it!