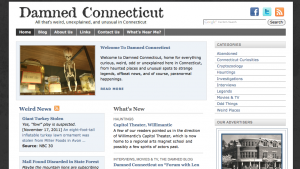 Damned Connecticut is home for everything curious, weird, odd or unexplained here in Connecticut, from haunted places and unusual spots to strange legends, offbeat news, and of course, paranormal happenings.
Along with Kate and Steve Frank, Ray started Damned Connecticut in 2009, and has seen it become an incredibly popular local site, with over 250,000 unique visitors and better than 570,000 page views annually.
In addition to researching and writing about "damned" phenomena, Ray has tried to explore these mysteries to provide some firsthand knowledge of what is (or isn't) out there. He continually add entries about anomalous subjects and unusual events in addition to other features such as interviews and book reviews, forums and more.
Just to make it clear: The Damned Connecticut team are not paranormal investigators. They also are not true believers, or skeptics—they are more what you might classify as "fortean." They are open-minded, curious and objective, and honestly, don't take themselves too seriously—the unexplained should be fun, right?