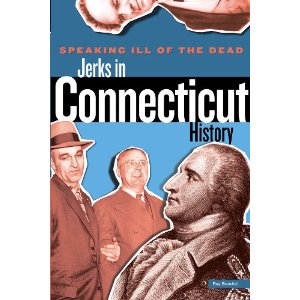 They say, "It takes one to know one (or fifteen)," and it absolutely couldn't be more true in this case.
Ray Bendici's Speaking Ill of the Dead: Jerks in Connecticut History from Globe Pequot Press is now available in bookstores around Connecticut as well as at Amazon.com and Barnes & Noble.com.
Speaking Ill of the Dead features 15 short biographies of Connecticut's most notorious bad guys, perpetrators of mischief and other colorful antiheroes from the history of the Constitution State.
From nefarious murderers and charming criminals to ruthless industrialists and legendary showmen, Connecticut has withstood its share of misguided and misunderstood characters, many of whom were critical to the development of the state.
We all love the stories of "bad" boys and girls, so here's a chance to learn about some of the "worst" jerks Connecticut has to offer, including: Lydia Sherman, the "black widow" who married and murdered three husbands (among others); Rev. Samuel A. Peters, who penned a felonious history of the Nutmeg State and fabricated its notorious "Blue Laws"; George Metesky, the "Mad Bomber" who terrorized New York for years; and of course, Benedict Arnold, who not only spectacularly betrayed his country at its hour of need, but also turned on his home state in one of the most vicious attacks in Connecticut history.
A rogue's gallery of incorrigible ne'er-do-wells, yes. But never boring!